04 Nov 2019
SHOW REVIEW: 2019 event the biggest and best yet!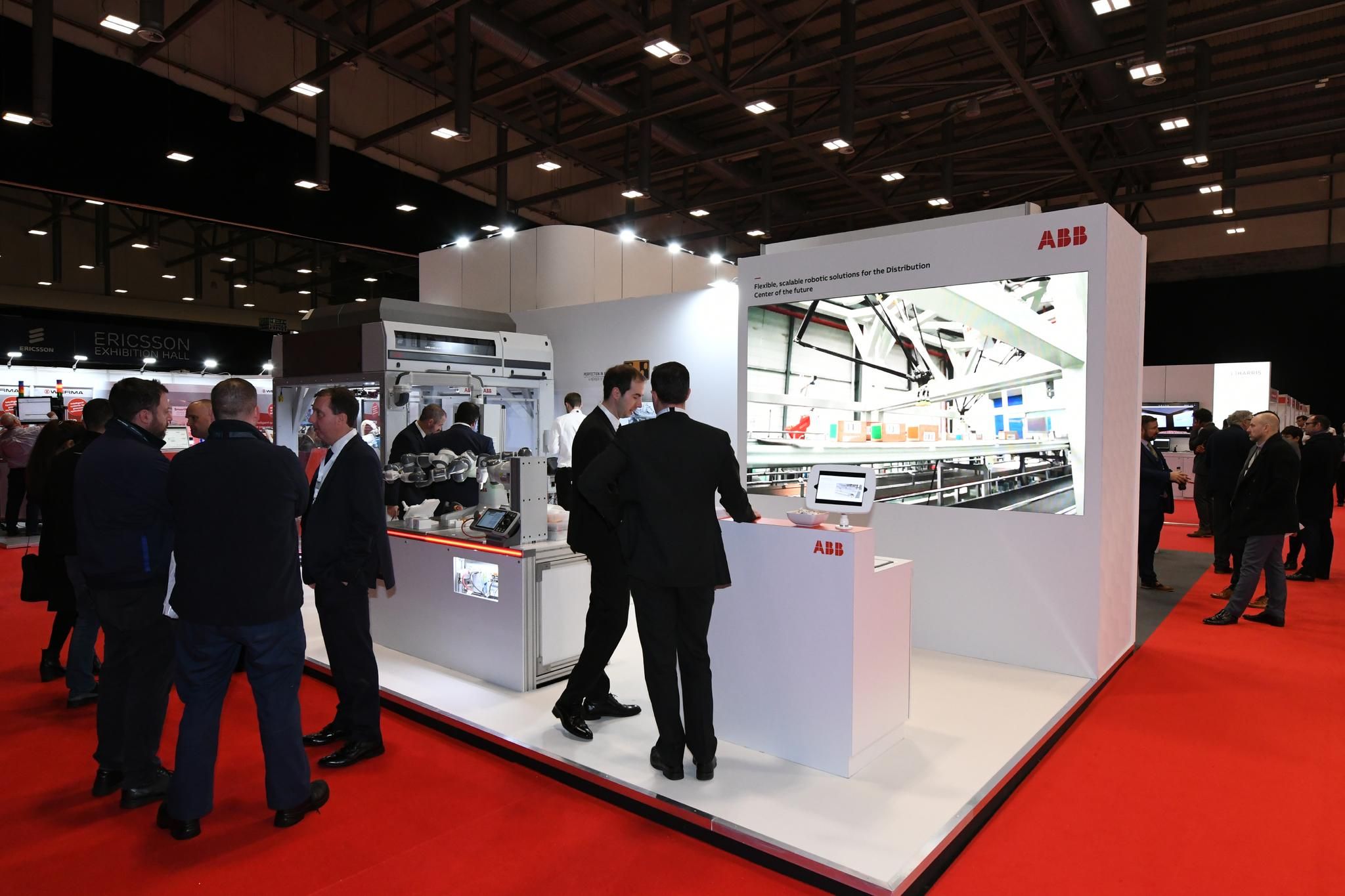 Twice the size of last year's show, Robotics and Automation 2019 played host to a greater, more diverse mix of solution providers showcasing the very latest and next-generation technologies, products and services to more end-user visitors than before.
The third edition of the UK's largest dedicated robotics and automation exhibition – held for the first time at Coventry's Ricoh Arena, October 29-30, 2019 – offered key decision-makers and leading professionals from sectors including retail, manufacturing, automotive, transport, distribution, warehousing, pharmaceutical and F&B the perfect platform to discover brand-new solutions, debate current issues and form new business relationships on a national scale.

Over 100 exhibiting companies presented their latest innovations at the free-to-attend exhibition, with everything from industrial, service and collaborative robots to automated assembly machines, automated guided vehicles and the latest advancements in AI and the IoT on display.

Established names such as ABB, AutoStore, Mitsubishi Electric and Universal Robots were joined by a host of exciting new exhibitors, including OnRobot, GeoSLAM, Brillopak and Pepperl+Fuchs.

Robotics and Automation 2019 also hosted two dedicated conference theatres on both days of the exhibition that offered unrivalled insight onto the role automation is taking in transforming society.

Featuring over 25 insightful presentations, the sessions covered everything from the latest developments in warehouse automation, food manufacturing and robotic endoscopy, through to exclusive case studies from the likes of Heathrow Airport, Ford and John Lewis Partnership.

Exhibitor news highlights
Headline news from the show floor included the official UK launch of Universal Robots' latest collaborative robot. The UR16e – which, at 16kg, has the highest payload across its range – was joined on the stand by the UR10e, polishing a curved surface to demonstrate its forced toque centre technology; the UR3e performing a bead application – applying glue to a starter motor – and an interactive UR5e.

Mark Gray, UK sales manager at Universal Robots, said the exhibition allowed the manufacturer to demonstrate "the versatility of its robots", especially the UR16e, adding: "Market forces have deemed that we require a 16kg robot, we have been asked to exceed our 10kg robot. We were the inventor of collaborative robots and we have started to branch out into other sectors."

Elsewhere on the show floor, SP Technology showcased its ball and cup demo machine – built specifically to demonstrate concepts it has cross fertilised from many industry sectors.

As visitors discovered, the machine drops stress balls into cups, caps them and off-loads them, showcasing the elements required in many production processes.

Roy Henderson, director, SP Technology, said it was difficult to showcase finished machines as every manufacturer wanted one on site as soon as possible and each was bespoke to an individual customer's needs. To that end it developed the demo machine specifically to showcase its advancements at exhibitions.

"We are involved in all industries: medical device, automotive, pharmaceutical and this could be used in anything," said Henderson. "In manufacturing what people are looking for is flexibility. It can improve testing, assembly, welding, that is what we do, we design bespoke machines to suit customers and fulfil their needs and the systems we design go from £10,000 up to £3m.

Meanwhile, RARUK Automation used this year's show to highlight its MiR500 mobile robot for in-house materials transport and logistics.

According to Iain Wallace, senior robotics sales engineer at RARUK, the MiR robots' scope of application has allowed the company to expand and diversify its customer base into industrial and commercial sectors.

"We've actually just made a sale of 50 MiR200 units into one major automotive OEM factory," revealed Wallace. "They'll be acting as a fleet management system, delivering parts around the facility to keep the work flow going."

Another exciting development came from Synergy Logistics, which shared details of its forthcoming new fulfilment cart, SnapCart. The autonomous mobile robot can carry up to 48 totes and reduce pickers' daily walking distance from 15 miles to 1-mile.

"We looked at the robotics market and couldn't really see a product we thought we would want to use in our warehouse, so we developed our own: SnapCart," said Daniel Curtois, marketing manager, Synergy Logistics. "'Essentially, it enables the picker to do the picking and the cart to do the walking."

Finally, OnRobot, which showcased its suite of EOAT solutions, including its flagship RG2 gripper and innovative Gecko gripper revealed that the company plans to introduce 38 new products by the end of 2020, upping its current offering from 12 to 50.

Richard Mawson, area sales manager for UK and Ireland, OnRobot, said: "We have 12 main products at the moment and the company vision is 50 products by the end of next year. The rate of expansion is demanding, which is why we have two R&D offices in the USA, one in Budapest and one in Denmark."

Conference highlights
At the Automation and Innovation Conference, Dr Bruno Scaglioni, research fellow in medical robotics at the University of Leeds, explained why robotic colonoscopy heralds a new era for colorectal cancer screening and outlined how the technique can help solve different issues in the medical industry.

"A lot of the cost of technology in healthcare is because clinicians have to be trained and they spend a lot of time trying to understand the technology," said Scaglioni. "However, with robotic endoscopy it is possible to increase the autonomy of the system to such an extent that even untrained people can use it to perform colonoscopies."

The second day of the Automation and Innovation Conference saw Megan Crossman, client accounts department manager at OW Robotics, extol the virtues of warehouse automation in the era of Amazon and next-day deliveries.

According to Crossman's presentation, "businesses are paying between £22,000 and £26,500 per year for each warehouse worker", which can have a detrimental effect on businesses start trying to compete with competitors for the same customers.

"When I ask a company what their USPs are, they usually cite that it's their product knowledge and customer service," said Crossman. "But when I ask their competitor the same question, they usually tell me the same, which means that price and speed of delivery become the true differentiators.

"But if Amazon then starts to sell the same product as another company, customers may go to that company for the product knowledge, but ultimately their final order will be with Amazon," added Crossman. "This is because although both that company and Amazon buy the product for the same price from the same supplier, if it costs Amazon a tenth of the price to fulfil that order, they can still sell it cheaper and make a higher margin."

Thus, Crossman believes that the only way for companies to truly compete is by automating their warehouse processes. "This actually allows businesses to move away from always having to compete on price alone. For example, I'll order something that's not the cheapest price but I know i can order it at 9pm and I'll still get next-day delivery. And I know if I don't like it I can return it because it's real simple and hassle-free to do.

"This then turns it into a race between companies to deliver the most efficient and streamlined service, which retains the sales and customer loyalty. With Amazon using robotics to drive its rapid rates of fulfilment and curb its growing labour shortages, more and more businesses are and soon will be following suit so that they can continue to compete.

"And those companies that fail to keep up or innovate more than their competition will go out of business."

At the Manufacturing and Innovation Conference, Jason Aldridge, managing director of Arrowsmith Engineering, took to the stage to detail how the aerospace SME dragged itself into the automation arena.

Following its purchase of a Mills CNC collaborative robot and co-act EGP-C gripper – that's able to work 24/7 – the 52-year-old company, which develops and supplies components for aerospace engines, was able to halve the number of machines required to mill one particular component, from two machines to one.

"The one machine running day and night basically freed up the second machine, which got us ahead on our production work," said Aldridge. "It was actually going quicker than we could keep up with or expected. The return has been quite remarkable – it paid for itself almost straight away, and our productivity has absolutely doubled."

The second day of the Manufacturing and Innovation Conference saw Tony Flack, senior assembly engineer for Ford's powertrain manufacturing engineering division, and Nahema Sylla, collaborative robots and ergonomics technical lead at HSSMI, outline how the Blue Oval successfully implemented collaborative robotics into its manufacturing process.

As session attendees learned, Ford has installed 19 robotic systems – mainly vision- or inspection-based systems – at both of its UK manufacturing plants since 2016. However, Flack admitted these systems had been installed and implemented with an industrial robot mindset and approach, such as using typical guarding methods and safety interlocks.

"Our manufacturing process and build sequence also made it very easy for us to segregate the equipment from the operator, which meant the total cost of the stations was probably higher than it needed to be, and it took much more time than it should to retool the applications, thus limiting the system's flexibility."

Thus, the car maker's partnership with HSSMI was driven by Ford's need to change its approach to cobot technology in order to deploy its first truly collaborative application. As such, the automotive OEM used HSSMI's Risk Assessment for Collaborative Environment (RACE) tool to perform a feasibility study of Ford's cobot-based vision system station, which checks electrical connectors on a wire harness.

"With RACE, we were able to plot and optimise the cobot's path and speed based on the connector positions it was checking," said Flack. "We also identified the potential cobot-human impact points, and therefore the applicable speed adjustments required to accommodate those impact points, as well as calculated the potential sample time of the station."

According to Flack, the collaboration with HSSMI and use of the RACE tool has enabled Ford to change the way in which its powertrain manufacturing engineering division can approach the design and deployment of its future cobot stations.

"By applying a logical, analytical approach to assessing the hazards associated with cobot motion, coupled with the ability to support the integrator, and optimise the programme of the cobot, we can take a confident next step towards deploying a fully collaborative solution in a flexible environment that is reliant on its own safety monitoring systems, and at a much improved cost and ROI."

Attendee feedback
Attendees of Robotics and Automation 2019 were united in their praise of the diversity and quality of products on display, as well as the high-level networking opportunities that both the exhibition and conferences provided.

"As usual, the level and calibre of clientele that have come through the doors have been high-end decision-makers," said returning exhibitor Jim Farquhar, sales director at Conveyor Systems.

Simon Bolton, FlowTube sales manager at first-time exhibitor FlowStore, concurred: "It's been a really great show for us and exceeded all my expectations. We had more meaningful enquires in two days here than we've had at other trade shows in four days. There's been a lot of interest in live projects, which is exactly why we're here. We've already rebooked for next year."

Fellow Robotics and Automation debutant David Jahn, owner of Brillopak, a manufacturer and supplier automated top loading packing systems for the food industry, came to the show to determine the relevance of Brillopak's equipment in different environments and to speak to people from different industries and sectors.

"We've made some very good leads and met many high-level, quality people, essentially the decision-makers," said Jahn. "Normally at trade shows I'm plagued by people who try to sell to me, that hasn't been the case at all here. Will we be here next year? Yes!"

"A really good experience. It's amazing to see all different technologies available on the market. Very inspirational presentations worth listening too as well," said Barbara Wesololoska, project manager, Marks & Spencer.

John Welch, site manager at Guys + St Thomas NHS Trust, said: "It was very interesting to learn about the various uses of robotics and its future development in healthcare. The conference session on leading people by Adrian Ancliff was also great!"

Jason Moate, director of operations at Prolabs, a provider of OEM-compatible transceivers, optical cables and media converters, said: "I look after a small production line and a warehouse so I came here looking for systems that might include conveyors and automated robots for picking and packing. And I've been really impressed with all the technologies and solutions developed by Automata, Innova, and Stäubli."

"It's always good to keep up with what's in the market because you never know when you'll move to another business where you see certain technology that could be applicable," said Jake Woodcock, national distribution centre manager at Travis Perkins. "|t's always interesting visiting this show because this stuff is the future."

Fellow visitor Alan Gransby, general manager at aircraft manufacturer Frank Brown & Son, agreed: "I came here sceptical and unsure as to whether or not I needed a cobot and I'm leaving absolutely positive that I need one."

Michael Greenough, senior manufacturing engineer, Micrus Aircraft Seating, said: "We just purchased our first robotic trimming and drilling cell for carbon fibre manufacturing and are looking to roll that out across the company and take out as much manpower as we can. In aviation manpower isn't always the best thing and we know we need to automate our processes a lot better. I came here looking for solutions to facilitate that."

Richard Hankinson, automotive director at Unipart Logistics, said: "I came here looking for the latest direction and technology advancements, specifically for warehouse automation, which increasingly our clients are looking for – in automotive, aftermarket and production logistics. It's where we are focused and where our clients are focused. I want to make sure I am keeping up to speed with the latest technology and the latest innovations."

Robotics and Automation will return to the Ricoh Arena in Coventry on 3rd and 4th November 2020. Register your interest now!