29 Oct 2019
SHOW NEWS: Universal Robots launches new UR16e cobot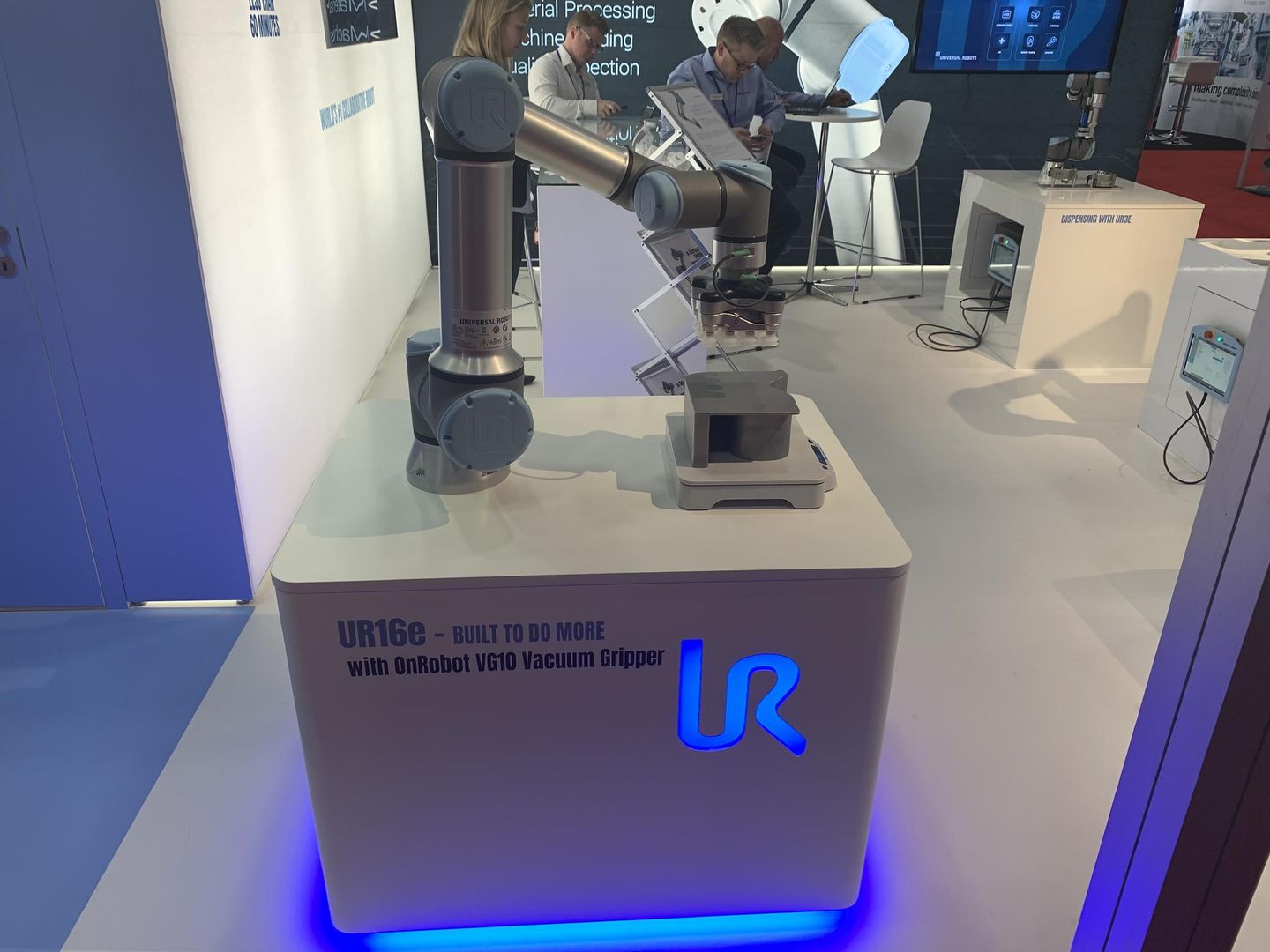 Universal Robots (stand 422) used Day 1 of Robotics and Automation 2019 for the UK launch of its latest collaborative robot (cobot) – UR16e – which, at 16kg, has the highest payload across its range.
Performing a 15kg lift, the UR16e is joined on the stand by the UR10e, polishing a curved surface to demonstrate its forced toque centre technology; the UR3e performing a bead application – applying glue to a starter motor – and an interactive UR5e.
Mark Grey, UK sales manager at Universal Robots, said the show allowed the manufacturer to demonstrate "the versatility of its robots".
In regard to the launch to the UR16e, Grey said: "Market forces have deemed that we require a 16kg robot, we have been asked to exceed our 10kg robot. We were the inventor of collaborative robots and we have started to branch out into other sectors."
Grey also said that the Robotics and Automation show was a great way to showcase the advancements in cobot and robot technology: "Traditionally the UK has been slow to adopt robots, and that is why shows like this are very popular as we are bringing awareness to the market."
According to Grey, the UK is the least robotised G7 country, with just 81 robots per 10,000 manufacturing employees, compared to Germany with 320 robots per 10,000, and South Korea with 650 robots per 10,000.
"The UK is really low down on the scale. That is because there are big industrial robots that are very difficult to implement, complicated to programme and require a big floor area," explained Grey. "Collaborative robots are a completely parallel stream of automation and the UK is new to that market, but it is very easy to adopt."
Another challenge Universal Robots is addressing is a lack of labour. "We speak to manufacturers in all different sectors and the big problem they all have is labour," said Grey.
"That is down to two factors: an ageing manufacturing population and not enough young people coming into manufacturing. The labour force we have got is going to change because the nature of products will change.
"Think about automotive manufacturers, moving from diesel to hybrid and electric vehicles. That is pushing out into the supply chain because the nature of manufacturing is changing.
"If you have made the same rivet for 60 years you will need to have new processes. If you are making relatively small volumes and it is very difficult to automate, cobots can automate step by step. Think about electric vehicles and batteries, it leads itself into another scale for that type of manufacturing."