19 Feb 2019
Significantly reduce costs and drive growth with our Goods-to-Person Robots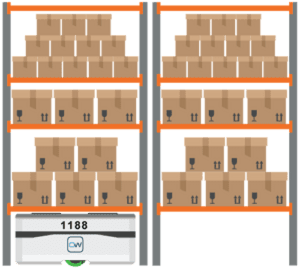 Significantly reduce costs and drive growth with our Goods-to-Person Robots
Our independent research, coupled with that from worldwide university studies, has shown typically between 50% and 70% of warehouse picking and put away staff time is spent walking between locations in a warehouse.
What's more, by carefully listening to our existing clients we have discovered that:
Businesses Are Wanting To Improve Operating Margin By Lowering Staff Costs
By ensuring the despatch and put away process is as lean and efficient as possible, businesses can focus on turning themselves into a sales and marketing machine by bringing on new product ranges without the burden of recruiting more warehouse staff in line with sales growth.
Warehouse Labour Shortages Are Becoming More Frequent
Currently this is being caused by BREXIT with over 150,000 migrants leaving the UK in the last year alone. A large proportion of these were employed in the warehousing sector. Nearby businesses offering slightly higher salaries and/or more benefits, together with increased staff turnover caused by hiring poor quality staff, has added to the issue.
Consumer Demands Are Changing
Clients demand later cut off times and still expect their orders to be delivered next day.
Competitors Are Becoming More Efficient
Competitors are driving increased standards and customer service to consumers. Those businesses that fail to keep up or innovate more than their competition will go out of business.
The Cost Of Employing Pickers Is More Than Originally Thought – And Growing
A typical warehouse picker in the UK on a salary of £18,000 per annum can cost as much as £23,500 per annum when the true costs of employment are taken into account including: basic salary, employers NI, pension contributions, incentives and performance related bonuses, recruitment costs, health and safety costs, management costs, inefficiency and wastage, holidays, overtime costs and unauthorised absences.
Reportedly, Amazon use over 100,000 goods-to-person robots to streamline their operations and have invested over $2.3 billion into the technology, becoming world leaders in the use of warehouse robotics.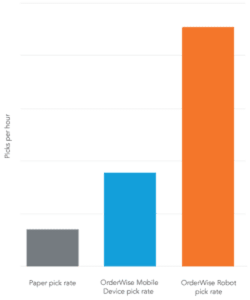 Robots are becoming a daily part of our personal lives with robotic vacuum cleaners, robotic lawn mowers and even self-driving cars. It's time for businesses to catch up and modernise their operations.
With OrderWise Warehouse Robots, your business can reap the benefits of advanced warehouse automation at a realistic cost. Through using our integrated and affordable robotic technology in your warehouse, your business can fully optimise warehouse space, maximise pick rates to increase order throughput and ultimately drive forward business growth whilst boosting bottom line profitability.
Every order your business ships will cost less when handled by an OrderWise Warehouse Robot.
OrderWise Goods-to-Person Robots are an optional part of the OrderWise solution. The robots have been designed to work with the OrderWise software unlike third party robots which are never truly compatible with the business management software. They have been developed to answer the real life warehouse issues businesses face today:
Helps significantly reduce the number of warehouse staff and future staff cost increases
Reduces the need to recruit new warehouse staff as the business grows
Maximise pick rates up to 650+ picks per hour allowing courier cut off times to be extended and next day delivery rates improved
Helps a business stand out from its competition and helps attract new business
OrderWise Warehouse Robots work autonomously and in the dark, allowing pods of products to be pre-picked. This means they can have them ready for staff before they start their shift, helping to maximise efficiency by eliminating the typical morning rush to get orders despatched.
Additional Key Benefits of OrderWise Warehouse Robots
Rapid single touch fulfilment on single line item orders
Used in conjunction with the OrderWise Pick Wall to swiftly amalgamate orders with multiple products and signal packers immediately when the order is ready to be packed
Lower staff turnover with pickers now given a premier position in warehouse operations at Picking Stations
Reduce mispicks/pack whilst increasing picking and packing efficiency
Gain the competitive edge over rival businesses who don't use automation
Win more customers and land high profile distribution contracts
Increase inventory density in a warehouse as aisle space can be reduced by 33%
Reduce utility costs as the robot area doesn't need lighting or heating
Reduce shrinkage by limiting human interaction with stock items
Streamlines put away operations
Coordinates bulk store/picking face operations
Unlike other automation systems OrderWise Warehouse Robots do not need significant or costly warehouse infrastructure changes to be employed
OrderWise Warehouse Robots will charge themselves when they need power or have no tasks to do between picking and replenishment waves.
OrderWise Warehouse Robots doesn't just make the picking and despatch side of a business more efficient. It streamlines the goods in and put away side too. After opening and booking in supplier deliveries, OrderWise will automatically send robots to the put away area for stock to be put away. This means that the put away team aren't walking through the warehouse either.
OrderWise Warehouse Robots can carry up to 700kg of stock and can work for a full 8 hour shift without needing to go on charge. They carry specially designed racking called pods which is where the products are stored.
Where companies employ bulk stores and want to use OrderWise Warehouse Robots for their picking face, OrderWise can control the replenishment process coordinating the movement of goods from bulk stores and the availability of robots to put the goods away into the pick face.
At OrderWise we have a Robot Demonstration Centre with working robots that you can come and see and interact with helping you visualise how OrderWise Robots can work in your business. Every business is different, and we employ warehouse management experts who can help you determine how many robots your business will need and how best to utilise them.
To find out more about our warehouse robots contact us to arrange a demo.