30 Oct 2019
SHOW NEWS: Live demos of intelligent mobile pallet transport system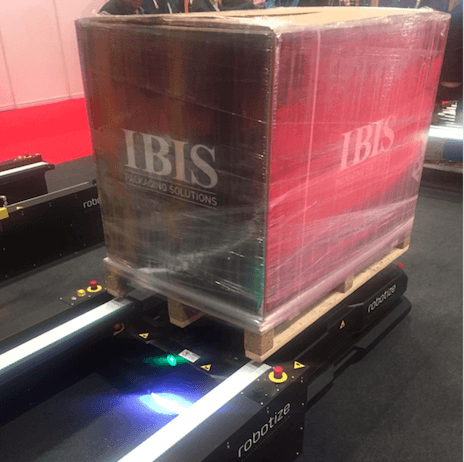 Visitors to IBIS Packaging Solutions' stand were able to witness live demonstrations of Robotize's GoPal 800 intelligent pallet transport system.
With a maximum load capacity to 800kg, the GoPal 800 mobile robot automates the transportation of pallets – either as part of industry 4.0 automation or on its own – by collecting and delivering pallets between stretch wrapping machines and other destinations (e.g. goods out).
GoPal 800 provides eight hours of operation and takes 45 minutes to fully recharge its LiFePO4 battery. The system can be set up to any type of application, from A-B delivery with a call button to fully-automated production support with ERP / WMS integration.
What's more, data on all aspects of both the individual robot and system performance is collected and logged in the GoControl computer for use in connection with future optimisation, troubleshooting and servicing. This data collection provides insight into the current state of a company's internal transport and its future needs.
"It's reducing costs, improving health and safety," said Paul Atkins, managing director of IBIS Packaging Solutions. "It's also completely safe, so people can perform more interesting and complex duties rather than the mundane running around the warehouse."