23 Sep 2019
Exhibitor Q&A: Josh Harvey, commercial finance broker, Halo Corporate Finance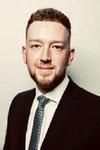 Please share a little about yourself with our visitors…
I'm an asset finance broker, which means I help SMEs grow and develop by arranging finance to allow them to purchase new equipment. Halo has funded various robotic and automation systems and is leading the way in facilitating their uptake within businesses across the UK.
Why has Halo Corporate Finance chosen to exhibit at Robotics & Automation 2019?
Halo is at the forefront of robotics and automation finance, so we will be on hand to offer advice to visitors on the finance options available to them. We help businesses modernise and grow by allowing them to purchase equipment and whole turnkey solutions on finance. It's not widely known that this kind of equipment can be financed, something which we are trying to educate businesses on.
By financing these projects and systems, businesses will see a quicker ROI; the majority of systems available improve efficiency and productivity, this in turn improves profitability. When you then add to the equation the fact that financing means little to no up-front investment, the ROI can be achieved almost instantly, and the impact of the system multiplied.
What will Halo Corporate Finance be showcasing or discussing?
We will be sharing our best advice on how businesses should be funding their potential purchases. This will include the various accounting, cashflow and ROI benefits available when financed with Halo. We will also be available to arrange funding for businesses at the show to allow them to get ready to place orders! And I'm sure we will be sharing some customary gifts and refreshments like any good stand!
In your opinion, what are the biggest challenges currently facing the industry?
One challenge that is evident at the moment, and that we can help combat, is the attainability of some of the products and solutions available. Some firms will struggle to find the capital to invest in such systems and may put off the purchase or compromise for a less costly or alternative option. At Halo, our missions is to ensure that these products are available to as many UK businesses as possible. With a few bits of information, we can apply for the funding to allow such purchases to the majority of businesses we come across.