01 Jul 2020
500% productivity increase delivered by Piab's piCOBOT & Universal Robots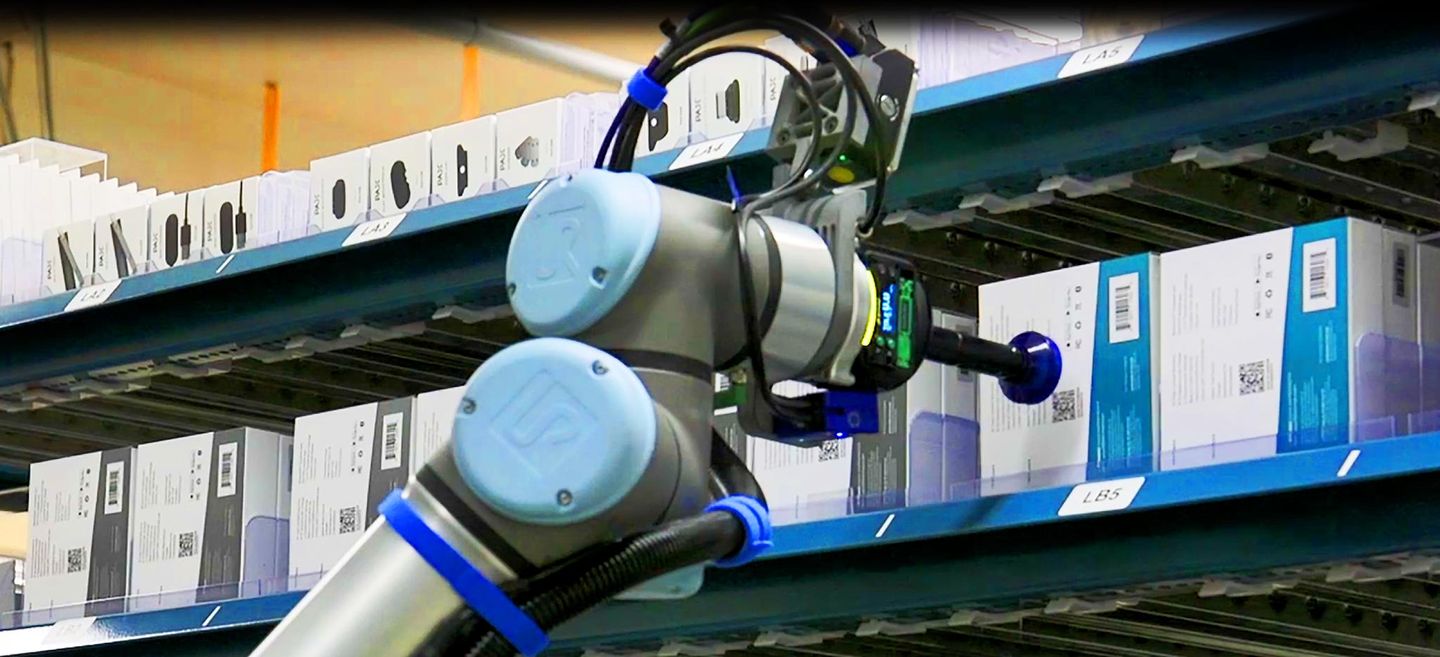 DCL Logistics needed a flexible automation system that would integrate with existing work cell setup and accurately handle the picking and packing of items into boxes in the company's fulfillment center. The company deployed Universal Robots' UR10e cobot in conjunction with Piab's piCOBOT gripper and realized 500 percent efficiency increase, 50 percent labour savings, a three months ROI, and 100 percent order accuracy.
In the past, it took five people to manage a conventional manual picking process: someone in the warehouse to pick the order, someone to bring it to the line, someone to verify it, someone to kit it, and someone to pack and ship it.
"The robotic system can do within two hours what a team of five people would do in an entire day," states Brian Tu. "The robotic systems actually save us greater than 50 percent in labor costs." In this way, the robots address a primary concern to manage labor over time, which is crucial to the growth of DCL Logistics' business. When a robot replaces a task that a worker was previously doing, that worker can be reallocated to other services or trained to manage and maintain the robot. During peak seasons, the robot allows the company to meet customer needs without bringing in additional staff.

3 months ROI and 100 percent order accuracy
The savings provide benefits to DCL's customers as well, Brian Tu explains. "The robotic system that we've implemented allows us to offer fulfillment at lower pricing because we're cutting out a lot of labor, enabling us to pass these cost savings on to our customers."
Dave Tu adds, "What we've seen is up to a 500 percent increase in productivity by using the robot. The ROI on the robots so far has been three months." Tu expects the time to ROI to decrease as the company integrates more robots. As a tech-forward, 3PL, DCL's competitive advantage is higher output, more efficiency, and better accuracy. As part of its differentiation, DCL Logistics has been ISO-9001-certified for about 20 years, which requires that the company meets certain operational process standards. Brian Tu says, "What that means is that the robots have to have the same level of accuracy and have the same if not more accuracy and output. With the UR cobot, our order accuracy has increased from 99.5 percent to 100 percent."
UR+ platform provided certified peripherals
The automation team at DCL Logistics used the UR+ online platform along with the simulator to research and choose the right peripherals for the application. Tested and proven certification for every UR+ product along with the UR CAPS software make the process a plug-and-play scenario instead of having to learn the commands of the robot. DCL chose a Piab piCOBOT gripper , a UR+ certified product and a DataLogic camera that can scan multiple barcodes at the same time, or scan a part number and a serial number.
piCOBOT® - Piab's clever end-of-arm (EOAT) vacuum gripper is now even more collaborative.
Available with a generic electrical interface as well as several options for mechanical mounting plate dimensions in accordance with the ISO 9409-1 standard, the piCOBOT® can be configured to work with any collaborative robot and smaller industrial robots. By offering generic compatibility for piCOBOT®, Piab is answering calls from several manufacturers of so called cobots wishing to use the company's unique vacuum EOAT in collaboration with their cobots. Originally certified to work with cobots from Universal Robots, piCOBOT® now extends its reach into the cobot market offering a high degree of configurability.
Through a user-friendly online configuration tool, Piab's customers can choose between a generic electrical interface including a standard cable or one specified by Universal Robots. Customers are also able to choose various different mechanical interfaces, configuring tools that precisely meet their specific requirements and/or applications. Offering plug-and-play extensions to cobots, piCOBOT® ensures safe and effective human-robot interaction. Featuring Piab's proprietary and highly efficient COAX® vacuum technology, piCOBOT® comprises a vacuum pump unit and a gripper unit fitted with suction cups. Piab's extensive range of suction cups enables customers to tailor their own solutions.
Providing optimal payload capacity for the cobot, piCOBOT® including the gripper weighs only 720g. Despite its minimal weight, Piab's EOAT is still able to lift objects weighing up to 7kg. A compact format and low build height of 69mm also allow piCOBOT® to be used in space-restricted areas. Designed for maximum flexibility and reach, piCOBOT® is 97-142mm wide and its gripper arm is tiltable to +/-15 degrees.
"piCOBOT® can now be used to extend the reach of all cobots regardless of brand, making collaborative robots even more collaborative, and in doing so promoting more user-friendly and productive working environments," concludes Jan Schieche.